Consul General Li Xuhang Welcomes Teachers to Chinese School Dubai
2020/08/06
On the afternoon of August 5th, Consul General Li Xuhang went to the teachers' residence of Chinese School Dubai to visit the first batch of 22 teachers from Hangzhou who had just arrived in Dubai to work for the school. The visitors include Vice Consul-General Sun Xudong, Yin Liping, Principal of Chinese School Dubai, and representatives of Chinese Companies and overseas Chinese in Dubai.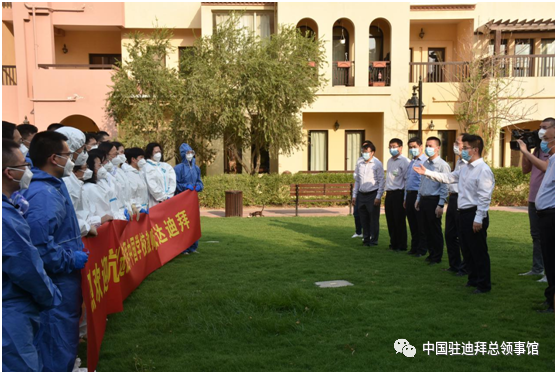 Li Xuhang first extended warm welcome to the teachers, saying that they took the risk of the pandemic in this special period to teach in Dubai, which made them the most beautiful countermarching people in the new era. This is implementation of President Jinping's instruction of "education going global" with actions. They are pioneers of running schools abroad to make basic education of China "go global", foundation builders of Chinese culture for the children of overseas Chinese and employees of Chinese companies in Dubai, and the facilitators of the Belt and Road Initiative and the China-UAE relations.
Li Xuhang emphasized that Dubai is a place to create miracles and realize dreams. The Chinese School Dubai is the first full-time school successfully established by the Chinese government overseas. It is a Chinese miracle in Dubai jointly created by the principals, Chinese companies, organizations of overseas Chinese and the Consulate General. It is hoped that all teachers, principals, and parents will work together to continue to create Chinese miracles in Dubai and create a more brilliant future for the Chinese School Dubai.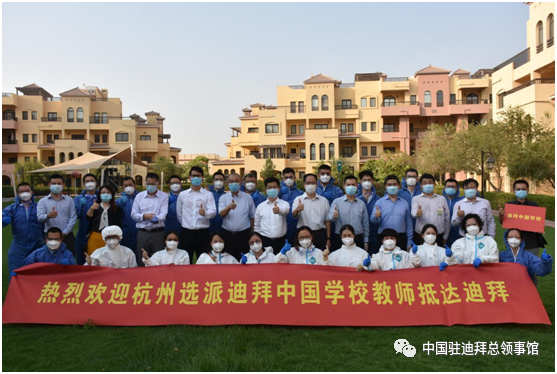 Consul General Li Xuhang and the other visitors also inspected the place of residence of teachers in the school. They asked the school to make careful arrangements to provide teachers with a safe and comfortable living environment.